Click on this link and print out a copy of a Physicians Referral Form to be filled out by your Physician.
We accept CIGNA, NM Health Connection, TriWest, Molina, Presbyterian Connected Care, ASO, Auto Accident and Workers Compensation Insurance.
SW Therapy & Rehab Inc is proud to have partnered with:
Health Quest Chiropractic
newmexicochiro.com
4 locations Academy, Cottonwood, Journal Center and Downtown
Tiger Lily Acupuncture and Oriental Medicine
Dr. Kimberley Workman DOM OM LMT MSOM BA
2504 Garfield Ave SE Suite #1
Albuquerque NM 87106
www.ahhchuu.org 505-301-7830
Corrales Chiropractic / Cigna & NM Health Connections, Workers compensation and Auto injury accepted
Dr. Brian Dickert
4436 Corrales Rd
Corrales, NM 87048
505-897-2273 all appointments for Dr. Dickert are on a walk in basis! No need for appointments! come in when you need it.
1st visit $100 call for appointment
2nd visit and beyond-walk in $40 per visit!
SW would like to welcome CIGNA along with these Presbyterian groups to our network that can receive massage therapy with a Dr. script;
Please look at your medical card and check the group number
Group # when booking if you can book a medical massage with a LMT then they can accept PRES CC and ASO insurance.
GR002180 Presbyterian healthcare services
GR002194  Albuquerque Public Schools
GR008984 Ben Archer Health Center
GR005720 City of Rio Rancho
GR008044  University of New Mexico
GR008178 NM GAS  CO
GR008178 NM GAS CO retirees
GR002193  NMRHCA
GR002182  Tri State Generation
GR002183 Wagner Equipment Co.
GR002192 NMPSIA
GR009363  NM UFCW Unions and employees health and welfare fund
GR010016  County of Bernalillo
GR002191  State of NM
GR009412  Intel corp.
GR001406  State Employees Credit Union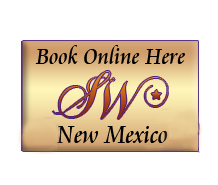 If you have issues finding a time that fits your schedule please email star@southwesttherapy.com we are committed to help you coordinate with a spa professional and can stay later or open earlier for your needs. We are also available for events, showers, shows, parties  & gatherings  to make your event spectacular!
 follow us on Facebook for health & wellness tips!
All LMTs are independent contractors running their own businesses.  You can buy gift cards, promotions, packets and hire out for events with them directly.
Westside Rio Rancho Office/Massage and Medical massage
On Southern Blvd right before the Unser light is 21st street.
1005 21st SE
Suite #9
Rio Rancho NM 87124
Massage
Emery Cruz 210-557-5197


Robert 505-417-6182




Star 505 -239-9644




Amber 505-917-5374




Monday Emery 11am-4pm




Tuesday Emery 9am-1pm/Robert 1:30pm-7:30pm




Wednesday Emery 10am-4pm




Thursday Amber 8am-1pm/Robert 1:30pm-7:30pm


Friday Star 9am-1pm/Robert 1:30pm-6:30pm
Saturday Emery 10am-2pm
Sunday Emery 10am-1pm
Robert, Emery and Star are now performing the CBD oil Luxury massage- This massage is our only Luxury and anxiety/pain relief massage using the CBD oil. It also includes, hot stone, Himalayan sea salt stone, hot towels, aroma therapy, cold stones for sinus/headache and hot packs. $200 per hour-Now through Christmas $100 per hour!

Book under CBD Luxury massage.
Corrales office-Starting  Feb 1 2018
4436 Corrales Rd
Corrales, NM 87048
Tuesday Star 10am-2pm
Wednesday Robert 1pm-7pm
Thursday Star 10am-4pm
Saturday Robert 1pm-7pm
Westside Rio Rancho Office/Massage and Medical massage
On Southern Blvd right before the Unser light is 21st street.
1005 21st SE
Suite #8  Breanne only
Rio Rancho NM 87124
Massage
Breanne 505-610-6549
Monday 2:30pm-5:30pm
Tuesday 10am-6pm
Wednesday 5pm-7pm
Thursday 5pm-7pm
Saturday 9am-noon
413 Montano Rd. NE 
Suite E 
Albuquerque NM 87107
The New Fit- Amber 505-917-5374
Monday Tuesday Wednesday & Fridays 1030am-630pm
Saturday & Sunday 12noon-2pm
7013 4th Street
Albuquerque NM 87107
Gail-505-933-9152 Massage and Medical Massage
Monday Gail 8am-1pm

Tuesday Gail 8am-2pm
Cedar Crest
25 Vista Grande
Cedar Crest NM 87008
Robert 505-417-6182 Massage and Medical Massage
Saturday Robert 11am-6pm
Sunday Robert 11am-6pm
NE Albuquerque Office- Massage and Medical Massage
2825 Pennsylvania St. NE
Albuquerque NM 87110
Winter 505-450-7291
Monday Winter 8am-11am & 2pm-5pm
Tuesday Winter 8am-11am
Thursday Winter 8am-11am
New Mexico Therapists:
Dr. Star Ridsdale ND, MH, BIT, LMT #1435
Winter Flack #5377
Robert Costa #5365
Gail Phillips #7255
Amber Sena #7570
Breanne Garcia-McClellan #7486
Emery Cruz #8516
Cold Stone Massage, great for head, neck and shoulders. Sinus/headache Massage 50 min
Cold stones dramatically reduce tension and lines in the face and jaw. Refresh your grace, get sinus and headache relieve while you get your neck, arms, shoulders and scalp massaged combined with an invigorating essential oil to soothe and relieve your stress.
Hot Stone Massage 50 min
Our therapists skillfully uses heated river stones with massage strokes to key points on the body, creating sensations of comfort and warmth. The direct heat from the stones  relaxes the muscles allowing manipulation of a greater intensity and re-balancing of the body.

Hot stone Massage 80 min

Our ultimate massage  
experience using the heated river stones. An amazing experience.