Click on this link and print out a copy of a

Physicians

Referral Form

to be filled out by your Physician.
We accept CIGNA,  Presbyterian Connected Care, ASO, NMHC, MERITAIN, Aetna, Auto Accident and Workers Compensation Insurance.
See our Shopping connection to buy SW Therapy & Rehab Hemp Oil  cream or Face Serum
Locations for massage-Albuquerque, Cedar Crest, Los Lunas & Rio Rancho!
SW would like to welcome CIGNA along with these Presbyterian groups to our network that can receive massage therapy with a Dr. script;
Please look at your medical card and check the group number
Group # when booking if you can book a medical massage with a LMT then they can accept PRES CC and ASO insurance.
GR002180 Presbyterian healthcare services
GR002194  Albuquerque Public Schools
GR008984 Ben Archer Health Center
GR005720 City of Rio Rancho
GR008044  University of New Mexico
GR008178 NM GAS  CO
GR008178 NM GAS CO retirees
GR002193  NMRHCA
GR002182  Tri State Generation
GR002183 Wagner Equipment Co.
GR002192 NMPSIA
GR009363  NM UFCW Unions and employees health and welfare fund
GR010016  County of Bernalillo
GR002191  State of NM
GR009412  Intel corp.
GR001406  State Employees Credit Union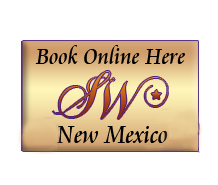 If you have issues finding a time that fits your schedule please email star@southwesttherapy.com we are committed to help you coordinate with a spa professional and can stay later or open earlier for your needs. We are also available for events, showers, shows, parties  & gatherings  to make your event spectacular!
 follow us on Facebook for health & wellness tips!
All LMTs are independent contractors running their own businesses.  You can buy gift cards, promotions, packets and hire out for events with them directly. SW does deep tissue, swedish, trigger point, pre/post natal massage, sports massage, and most have hot stone, cold stone and hot towel massage as well.
Westside Rio Rancho Office/Massage and Medical massage


On Southern Blvd right before the Unser light is 21st street.
Handicap accessible
1005 21st SE
Suite #9
Rio Rancho NM 87124
Vanesa 505-639-1610
Robert 505-417-6182


Amber 505-917-5374




Monday Vanesa 7am-2pm




Tuesday  Vanesa 7am-1pm




Wednesday Vanesa 7am-1pm/ Robert 1:30pm-8:30pm




Thursday Amber 8am-1pm/Robert 1:30pm-8:30pm




Friday Vanesa 7am-1pm/ Robert 1:30pm-8:30pm
Star is working from the home office, please call for an appointment with her at 505-239-9644
Nov 1 Vanesa will be at
5115 Coors Blvd
Suite C inside Aura Beauty Parlor
Albuquerque NM 87120
Monday, Thursday, Friday, Saturday & Sunday

Nov 1 Grace will be at
3200 Carlisle Blvd NE
Albuquerque NM 87110
413 Montano Rd. NE
Suite E
Albuquerque NM 87107
Inside The New Fit Gym- Amber 505-917-5374
Monday Tuesday Wednesday & Fridays 1030am-630pm
Saturday & Sunday 12 noon-2pm
Tijeras
19 Camino Linda 
Tijeras NM 87059
Robert 505-417-6182 Massage and Medical Massage
Monday Robert 11am-6pm
Sunday Robert 11am-6pm
Los Lunas
ONSITE AT THE FB CENTER for FB EMPLOYEES
MUST HAVE BADGE TO ENTER FB CENTER

Wednesday Star 7am-7pm 
For those in Auto accidents; If you are unlucky enough to suffer an auto accident, the collision itself is only the beginning. Now you are forced to deal with an insurance company to assess the damages and rely on them to offer an amount to cover the costs. But insurers have their own agenda. Insurance adjusters work for the insurance company to payout as little as possible. An auto accident attorney specialized in working with people who have gone through an auto or cycle accident. This gives you the ability to concentrate on getting better and the lawyer  to work and get you to the compensation you deserve.  Ask us for referrals to lawyers we know and trust and have worked many years. We can help you get better.
New Mexico Therapists:
Dr. Star Ridsdale ND, MH, BIT, LMT #1435
Winter Flack #5377
Robert Costa #5365
Amber Sena #7570
Ester Larranaga #8514
Melanie Ortega #9260
Grace Romero #7172
Vanesa Sandoval #9295
Some Therapies we may use: taping, cupping, essential oils, aromatherapy, hot packs, trigger point and

Cold Stone Massage, great for Sinus/headache
Cold stones dramatically reduce tension and lines in the face and jaw. Refresh your grace, get sinus and headache relieve while you get your neck, arms, shoulders and scalp massaged combined with an invigorating essential oil to soothe and relieve your stress.
Hot Stone Massage


Our therapists skillfully uses heated river stones with massage strokes to key points on the body, creating sensations of comfort and warmth. The direct heat from the stones  relaxes the muscles allowing manipulation of a greater intensity and re-balancing of the body. SW never leaves hot stones on the body.