SW Therapy & Rehab is proud to offer Pain/ Anxiety  and Arthritis Hemp lotion (no THC) For professionals and professional strength!
Visit our Ebay Store to see all our great products.  Get free shipping and pay no tax!!!
Click Here to order from Ebay 
Or AMAZON PRIME/2 day shipping, no tax
Click Here to order from Amazon
.
SW Therapy Pain, Anxiety & Arthritis Cream, 4 oz Jar SOLD ON WALMART.COM
GET IN STOCK ALERT WHEN YOU VISIT THE WALMART.COM SITE
Average rating:0out of5stars, based on0reviewsWrite a review
Walmart # 571351733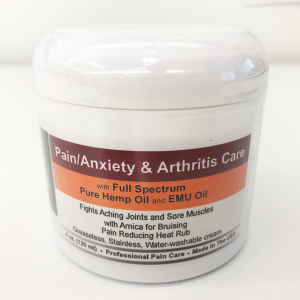 $32.00
Out of stock
Pickup not available
Qty:
Get In-Stock Alert
Sold & shipped by Walmart
Add to List
Add to Registry
Gifting note:Ships in the manufacturer's original packaging, which may reveal the contents.
Hemp pain lotion- Pain/Anxiety & Arthritis $49.99 -6.24 per OZ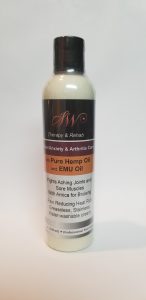 Hemp Vitamin coffee!!!!  Get all your vitamins and focus in one cup! 8 oz bag, makes 96 cups of coffee. NOT BITTER $39.99 -.41 cents a cup of coffee! 4 great types!
Click here for Medium Roast
Click here for Dark Roast
Click here for Espresso
Click here for Decaf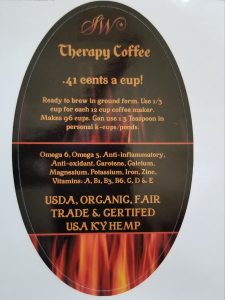 4 in 1 Collagen, Vitamin C, EGF & Hyaluronic Face Serum-smooths wrinkles and scars, promotes new skin growth! $19.99 fantastic deal as you are buying one product with 4 treatments for your face and neck!
Click HERE to order on Ebay-free shipping, no tax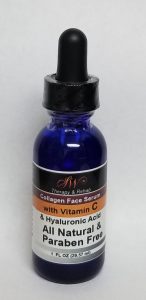 Our clients range from ranchers, farmers, police, firemen, veterans, doctors, elderly and professionals who cannot use pain relieving drugs with side effects as in damaging liver, kidney function or impaired driving ability, sleepiness, lethargy and too costly to continue using.
I

ndustrial Hemp  Farming Act 2014-Domestically gown Hemp/CBD oil extracted from hemp is legal by the Federal Government in all 50

states. The only caveat is that hemp must contain less than 0.3% THC on a dry weight basis. As marijuana and hemp are both from cannabis plants, the amount of THC is the primary factor that differentiates the two. 
You will not get high from our product-just relief of pain.
On the internet, in stores and other places HEMP/CBD creams/oils that are 4 OZ sell for $50/ or 1 OZ for 52.66. You are getting the best deal from SW and a lot more!
Compare to what is in Walmart stores per OZ is $9.49  for Penetrex and 8.93 an OZ for Australian Dream.  Miracle CBD is $34. 00 to $60 PER OZ!
SW Therapy & Rehab Pain/Anxiety & Arthritis lotion is $6.24 an OZ!!!!!!!! AND OURS WORKS! 3 year shelf life, expiration date on bottle, is a stand up 8 oz bottle
What makes this product great is that is besides having  hemp oil – it's the combination of all of these ingredients at just the right % that makes this product work so efficiently.

Eucalyptus Oil is a cream for pain relief and speeds up the healing of injuries. Promotes feelings of easy breathing and helps clear the mind.
Camphor is topically used to relieve pain and reduce itching. It has also been used to treat fungal infections of the toenails, warts and osteoarthritis. Camphor is used topically to increase local blood flow and as a counterirritant which reduces pain and swelling caused by irritation.
Emu oil is used topically for athletes food, poor circulation and skin conditions including dry skin, dandruff, eczema, psoriasis, winkles or age spots. It is also used to protect skin from sun damage and to promote more youthful looking skin.
Hemp oil is rich in protein, polyunsaturated fatty acids,  omega 6, omega 3 and insoluble fiber. There are an excellent source of tocopherols or vitamin E antioxidants. Hemp oil can be used to increase immunity, counteract aging skin and improve cardiovascular health. Hemp oil is also a natural mood lifter without psychoactive effects.
Menthol gives you a cooling, calming effect.
Gum Spirit of Turpentine-Can be used for pain as well as upper respiratory ailments like chronic coughs and chest congestion.
Arnica oil reduces pain and disease causing inflammation when applied to the skin. Is helpful for all kinds of bruises, aches, sparing and even arthritis flare ups. It can be applied to insect bites to reduce irritation and inflammation.
This product is not intended to diagnose, prevent, treat or cure any disease. Any representation regarding this efficacy of SW Therapy & Rehab Hemp product have not been evaluated by the food and drug administration. Always check with your physician  before starting any new item or dietary supplement program.
Tested on my own family who inspired me to test and produce this product since no other product was working for my 92 year old mother. My mother has a debilitating arthritis. Before use of this product nothing worked.  She was so happy that it works great and within minutes.
Myself, who after 18 years as a an airline baggage handler then 20 years as a massage therapist my wrist and fingers just ached constantly.  While using this product, I am able to live my life without using pharmaceuticals drugs.  It worked fast and was incredible.
Sold in NM:                                                 Sold in MN:
Corrales Pharmacy                               Lakegirl
4940 Corrales Rd.                                 719 Roosevelt Ave
Corrales NM 87048                             Detroit Lakes, MN 56501
Salon Deluxe                                            Saucy's Cottage/Shady Hollow
3301 Southern Blvd. SE                    12673 Co. HWY 17
Rio Rancho NM 87124                      Detroit Lakes MN 56501
Melanies                                                     Aim Chiropractic
2345 Southern Blvd. SE                     101 Coney Street W
Suite B10                                                     Perham, MN 56573
Rio Rancho NM 87124                       218-346-2225
Phil's Pharmacy
5510 Lomas Blvd NE
Albuquerque NM 87110
Sarah Hair Salon
9720 Candelaria NE
Suite G
Albuquerque NM 87114
Sold in CA:                                                  Sold in AZ:
Simi Valley Chiropractic                   Bungalow
4519 Alamo Street                              15330 N. Hayden Rd. #120
Simi Valley, CA 93063                        Scottsdale AZ 85260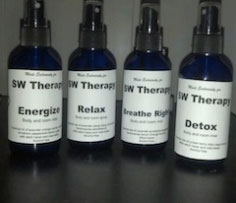 AROMATHERAPY LINE
Relax-
Breath deep the earthy smell of this mist and allow your stress to slip away. With a hint of Lavender and Chamomile, it will help you get a great night sleep. Essential oils of Lavender Ylang Ylang Chamomile Frankincense Sandalwood With witch hazel and rose water Alcohol free
Energize-
Rosemary was used in Ancient Rome to help scholars maintain alertness for studying and testing, it can do the same for you. All the energy you need, with no shaky side effects. Essential oil of Lavender Orange Vanilla Rosemary Cinnamon Peppermint Lemom grass witch hazel and Rose water Alcohol free
Breathe Right-
The combination of Lavender and Eucalyptus will help open stuffy airways and calm inflamed sinuses from colds and allergies, while Tea Tree Oil works to disinfect your workspace without the use of harsh chemicals. Essential oils of Lavender Eucalyptus Peppermint Frankincense Lemon Orange Tea Tree Witch-hazel Alcohol free
Detox-
This great mix of Clary Sage and Juniper Berry with a touch of Lemon will help get your lymphatic system flowing and reduce excess bloating while helping you to unwind. Essential oils of Juniper Berry Clary Sage Lemon With witch hazel and Rose water Alcohol free
Each bottle is 4 oz.
Contact for ordering: Winterlmt@gmail.com Price $15 plus shipping Coupon code STAR for the discount
Sense apparel Bamboo & Organic cotton tees that inspire positivity.  You buy a tee they plant a tree! Be sure to use code: STAR  and receive a 10% discount.